Miley Cyrus takes back apology for revealing photoshoot
[ad_1]

Miley Cyrus has retracted an apology she issued 10 years ago over a revealing photo shoot she took part in when she was a teenage Disney star.
Famed photographer Annie Leibowitz took the images of the 15-year-old Hannah Montana actress which showed her wrapped in a satin sheet with her back exposed.
The photos were published in Vanity Fair magazine in 2008 and received widespread criticism.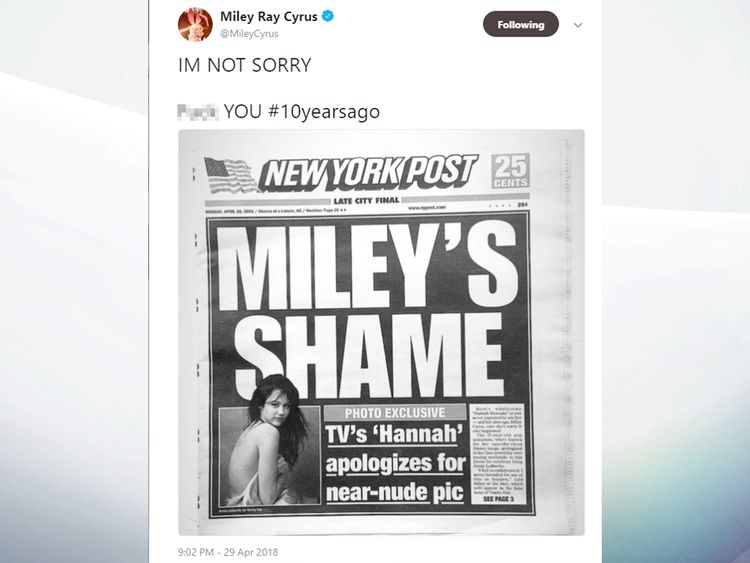 At the time, Cyrus was reported as saying she felt like she had a "big blanket on" but a Disney spokesperson said the teenager had been "deliberately manipulated" to "sell magazines".
Cyrus addressed the controversy separately, saying: "I took part in a photo shoot that was supposed to be 'artistic', and now, seeing the photographs and reading the story, I feel so embarrassed.
"I never intended for any of this to happen and I apologise to my fans who I care so deeply about."
But now the 25-year-old has taken back her apology by tweeting an image of a New York Post front page from 2008 and writing "IM NOT SORRY.
"F*** you #10yearsago"
It is not known what prompted her to post this.
The Wrecking Ball singer, who is engaged to actor Liam Hemsworth, had earlier been tweeting cute images showing her as a child to her 41 million followers.
[ad_2]

Source link