Bristol Old Vic reopens after historic theatre undergoes £25m refurbishment
[ad_1]

The oldest continuously working theatre in the English-speaking world is to finally get its own front door – more than 250 years after first being built.
Bristol Old Vic has undergone a £25m refurbishment in the hope of becoming more inclusive and attracting new audiences.
When the Georgian theatre was built in 1766, entertainment was banned and so the building was hidden from public view. Over the years, that has meant people have become disengaged with the space.
As part of the refurbishment, Bristol Old Vic now has a glass fronted entrance, through which you can see the original theatre from the street.
Excavation works led to the discovery of an 18th-century thunder run, a wooden gully from which weighted balls would have been rolled down to replicate the sound of thunder.
The likes of Daniel Day-Lewis, Peter O'Toole and Jeremy Irons have all honed their craft at Bristol Old Vic and the theatre has had to diversify in order to survive.
Funding cuts to the arts have had a huge impact on theatres up and down the country and in Bristol they are now opening a restaurant, a bar and hosting big events in order to cover the costs of the building.
Artistic director Tom Morris, who is best known for co-creating the National Theatre's production of War Horse, told Sky News: "I think that it is absolutely vital that every major city in Britain has a producing theatre, which is bringing real creative opportunity to every child in the city.
"If we continue to cut our funding for the arts those theatres will either close or become commercial. That really will happen if we don't find a solution to how we want to fund the arts."
Without doubt, Bristol Old Vic is a remarkable tale of survival.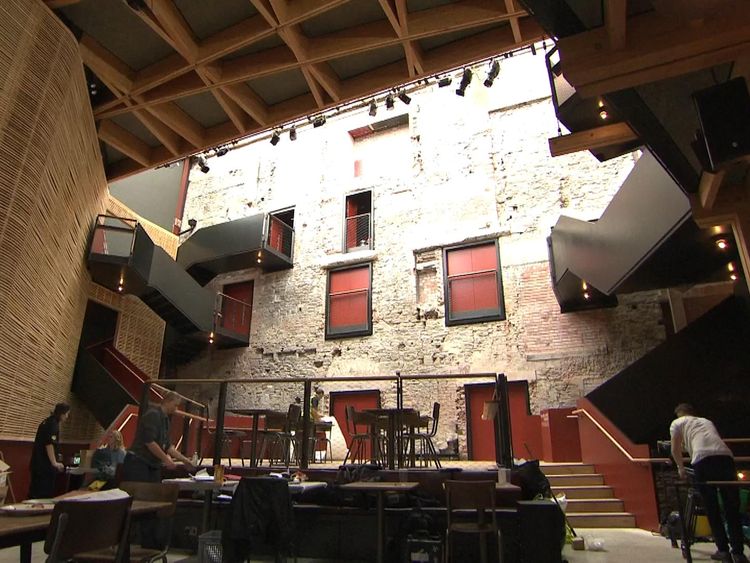 It has faced bankruptcy and closure several times over the years. When it first opened in the 18th century, the theatre was seen as a product of the city's economic boom, associated with the slave trade. That theme is echoed throughout its renovations; even the shutters have lines from Bristol's poet laureate Miles Chambers, which pay tribute to the victims.
Connections to the slave trader Edward Colston are indeed evident across the city. In fact, last year it was decided that Bristol's biggest concert venue, the nearby Colston Hall, would be renamed following years of protests.
When Bristol Old Vic opened its doors back in 1766, wealthy merchants were encouraged to invest in the theatre, buying silver tokens. They effectively worked like a season ticket, allowing people to view whichever performance they fancied.
The coins have been passed down through generations and are still accepted today. The British stage and film actor Peter O'Toole owned one of them and it was donated back to the theatre when he died in 2013.
Bristol Old Vic has provided inspiration for many actors over the years, including Joe Sims who has appeared in the likes of Broadchurch and Casualty.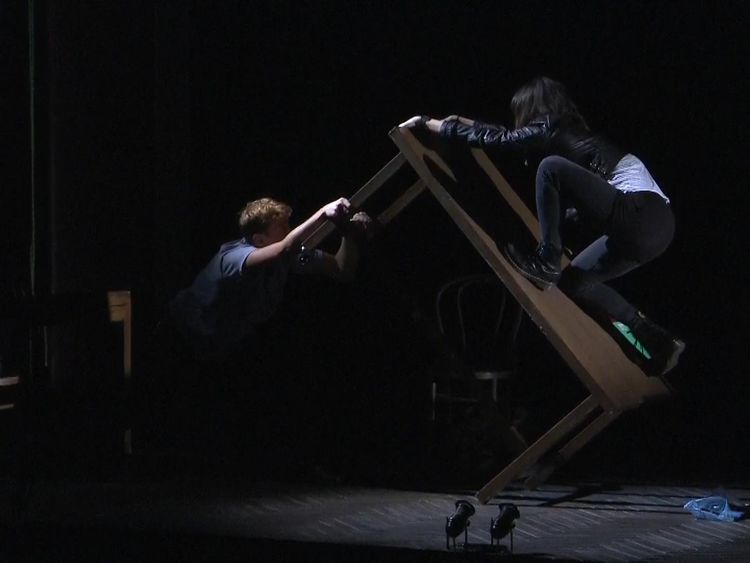 He told Sky News: "This is a Bristol theatre for Bristolians. You want everybody, irrespective of creed, culture or religion, to come here.
"They have made a massive stride with the refurbishment because the theatre is open for people to just come and have a pint. That might be for the types of people I go to the football with. They wouldn't ordinarily have gone to Bristol Old Vic because they may have thought it was synonymous with the landed gentry, drinking tea or champagne."
The changing face of Bristol Old Vic is indeed aimed at encouraging people who wouldn't normally go to the theatre to give it a go. After all, it is the oldest continuously working theatre in the English-speaking world.
As it opens its new front door to the public, it is hoped that the changes will secure Bristol Old Vic's past for its long-term future.
[ad_2]

Source link