Comedian Jeremy Hardy dies from cancer aged 57 | Ents & Arts News
[ad_1]

Comedian Jeremy Hardy, a regularly guest on radio panel shows The News Quiz and I'm Sorry I Haven't A Clue, has died from cancer aged 57.
In a statement, Hardy's publicist Amana Emery said he was with his daughter and wife when he died and his friends and family were "immensely sad".
"He retained to the end the principles that guided his life; trying to make the world more humane, and to be wonderfully funny," Ms Emery said.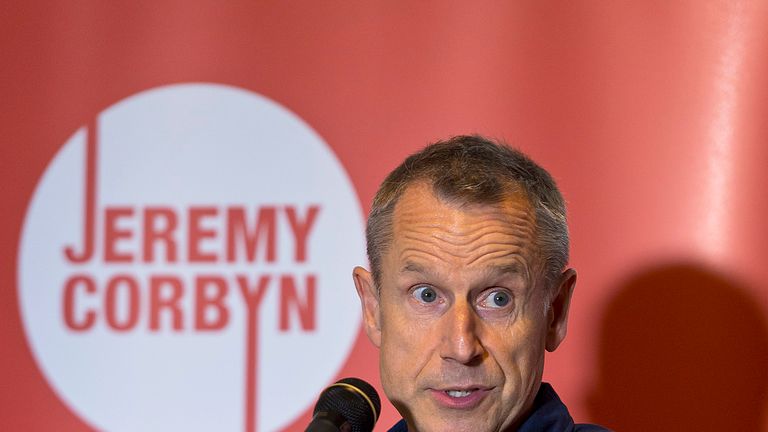 "He will be enormously missed by so many, who were inspired by him and who laughed with him.
Jeremy Hardy was ground-breakingly brilliant, off the register funny, compassionate and caring. So privileged to have counted him as a dear friend. My love goes out Katie and Betty and all his wonderful family. x

— Jack Dee (@TheRealJackDee) February 1, 2019
Jack Dee, who worked with Hardy on Channel 4 sketch show Jack and Jeremy's Real Lives and I'm Sorry I Haven't A Clue, tweeted that Hardy was "ground-breakingly brilliant, off the register funny, compassionate and caring".
Fellow comedian David Baddiel called his death simply "a great loss to comedy".
Born in Farnborough, Hampshire, in 1961, Hardy studied at the University of Southampton before turning to stand-up comedy in the 1980s, winning the prestigious Perrier Award in 1988.
He was soon noticed by television, beginning his on-screen career in 1986's Now – Something Else, appearing alongside Rory Bremner.
Sad beyond measure that Jeremy Hardy died this morning. Unfussy, unshowy, principled, self-deprecating, hugely loved & admired by his fellow comedians, and funnier than the lot of us put together. A unique comedian & a lovely man.

— Rory Bremner (@rorybremner) February 1, 2019
The impressionist posted that Hardy was "unfussy, unshowy, principled, self-deprecating," and "funnier than the lot of us [comedians] put together".
In 1993, he began Jeremy Hardy Speaks to the Nation, a series of comedy lectures for Radio Four, which ran for 10 series.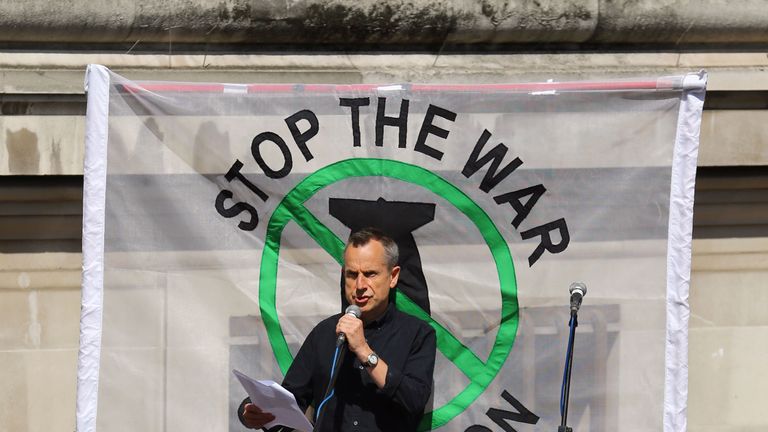 Like many of his '80s contemporaries, Hardy was an overtly political comic and, as a life-long committed socialist, he railed against the perceived injustices of the Conservative governments of Margaret Thatcher and John Major.
He was also fiercely opposed to the Iraq War begun by the labour government of Tony Blair.
Deputy Labour leader John McDonnell praised Hardy for "courageously supporting campaigns for social justice".
Saddened to lose our good & loyal friend Jeremy Hardy. As well as being a brilliant comedian, whenever the call for solidarity went out, Jeremy courageously supported campaigns for social justice from the Guildford 4, the miners strike to the plight of refugees. We all loved him.

— John McDonnell MP (@johnmcdonnellMP) February 1, 2019
His radical views did not always go down well, however, and he was once booed by members of the audience another Radio Four show, Just A Minute, for ranting about the Royal Family when asked to talk about "parasites".
In 2004, Burnley Council cancelled one of his gigs after he said members and supporters of the British National Party should "be shot" on an episode of his Speaks to the Nation programme.
Hardy was twice married, to American actress and comedian Kit Hollerbach, who appeared alongside him in radio sitcoms and with whom he adopted a daughter, Elizabeth, in 1990.
He is survived by his second wife, film-maker and photographer Katie Barlow.


[ad_2]

Source link