Dom Joly's foodie tour of Lebanon | Travel
[ad_1]

It's difficult to pin down what is definitely your earliest memory but, I'm pretty certain that mine was food-related … most likely manakish. The smell of manakish – flat dough, covered in a mixture of za'atar and olive oil, and baked in a wood-burning oven – can still stop me in my tracks. There was a boy who used to roll his manakish cart into Brummana High School, the Quaker institution in the hills above Beirut where, for a year in 1974, both Osama bin Laden and I were students. Sadly, Osama was a lot older than me and we didn't know each other, so I can't tell you whether he loved manakish as much as me.
I left Lebanon when I was 18 and my parents divorced. Last year I went back to write a travel book, documenting my walk across Lebanon from the Israeli border in the south to the Syrian border in the north. I went with two old friends. It was part midlife-crisis adventure, part attempted weight loss. The latter was spectacularly unsuccessful as, every night, when we crawled into local lodgings, we were force-fed into submission by a series of extraordinary Lebanese home cooks.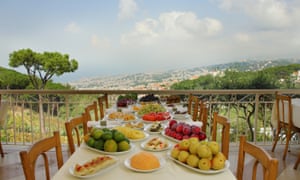 What was special was the opportunity to sample stuff you wouldn't find in a lot of Lebanese restaurants. This home cooking is known as tabeekh, and my favourite was shish barak, a stew made of tiny meat dumplings cooked in a plain yogurt. It's probably of Ottoman ancestry but is wonderfully filling and the ultimate comfort food on a chilly evening high on Mount Lebanon after a 20km uphill scramble.
I returned to Lebanon a couple of weeks ago with Chris, one of my walking companions. The idea was to take a quick trip (in a car this time) to revisit some of our favourite eateries. Most people think about Beirut when they think of Lebanon. But to me, a visit to Lebanon is all about getting out of the capital and exploring the country.
But first, I needed manakish. Ask any Lebanese and he will know his own manakish shack that he claims is the best in the country. They are all pretty good; some make the dough pancake thin, but I prefer more of a pizza thickness. My manakish joint of choice, on the road up from Beirut towards my childhood home in Ain Saadeh, gets it just right. As you leave the village of Mansourieh you come to a roundabout and my favourite shack is on the corner, next to the Mini-Market Al Mountazah. The friendly owner had to be forced to accept payment and, although I'm all about the za'atar, he tried to press me into trying all sorts of variations of toppings including spiced lamb, cheese and sliced coussa (a type of small marrow). Trust me, as the oil seeps into the paper around your manakish and you take your first bite, your life will change dramatically.
If you're up in the mountains, there are two restaurants you shouldn't miss. Mounir, in Beit Meri, overlooks Beirut. We sat there with about 40 different little plates in front of us. Everything is delicious, even the simplest dish: thick slices of beef tomato covered with garlic paste and salt left us craving more.
Higher up in the mountains is my absolute go-to restaurant, Khairallah's. It's a relaxed, family-run place in the village of Mtein. It boasts a stunning view and is situated in possibly the most beautiful village square in Lebanon. I can never resist their kibbeh nayyeh – minced raw lamb mixed with fine bulgur wheat and spices. You have it with olive oil and onions and must refrain from intimate contact with anybody for at least 24 hours afterwards.
The first sunny day saw us gunning up the coast north of Beirut. Most tourists go to Byblos, to sit in the old port and eat at Pepé Abed's, a Lebanese institution and one of those charming places you find all round the Mediterranean with fresh fish and black-and-white photos of David Niven and Sophia Loren on the wall. We drove on a little further to the town of Enfeh. Make your way down through an old graveyard and you come to a series of cheerful shacks by the sea where you can drink beer and eat octopus with garlic, parsley, chilli and lemon.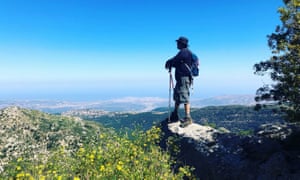 From Enfeh it's an easy drive up to the spectacular Qadisha Valley for a spot of skiing near the original cedars of Lebanon. For me, however, there was another culinary destination. We drove on to Tripoli, Lebanon's second city. I was here for one thing only: to visit Sami, Malak El Samke El Harra – the King of Spicy Fish. Samke Harra is a speciality of Tripoli, but you have to ask for it carefully as the word for "shit" in Arabic is khara, so you could end up asking for shitty fish to much local amusement. We sat outside Sami's modest establishment in the port area on plastic chairs, savouring the sandwich and watching the world go by.
On our last day, I took Chris to Loris in Beirut. It's in the hip Gemmayzeh district and is a Lebanese restaurant with an Armenian/Aleppan twist (not something you find every day). We sat in the indoor garden and ate lahme bi'ajin, a posher version of manakish, covered in spiced lamb and pine nuts, all washed down by several glasses of arak.
"Same time next month?" asked Chris.
"Just try and stop me," I replied.
• The Hezbollah Hiking Club by Dom Joly is published by Constable at £20 on 13 June. To order it for £17.60, go to guardianbookshop.com.
[ad_2]