How road technology will change your daily commute
[ad_1]

Like other transport companies, Transurban is facing disruption from the emergence of electric vehicles and connected autonomous vehicles (CAVs) – cars that can not only drive themselves but can also share information with one another through telecommunication and wireless networks.
But the company has a vested interest in embracing change. If it can use technology to sort out traffic incidents quickly and transmit information to drivers, as well as developing smart infrastructure that makes it easy for CAVs to navigate its roads, people will be more likely to pay to use them.
Transurban's offices, which span several floors of Tower 5 in Collins Square, offer little hint the company makes its money from tolling motorways. Digital purple jellyfish float on screens behind potted plants, and fake cobblestones line the floors to evoke the feel of Melbourne's laneways. Its meeting rooms are named after different forms of transport. AFR BOSS magazine meets Tobin in the Tram room.
Tobin is a recent recruit to the transport industry. She had spent two-and-a-half years managing technology for Australia Post's retail services business and 15 years in various technology leadership roles at National Australia Bank before being brought onto Transurban's executive team in early 2013 by chief executive Scott Charlton (who joined the company in mid-2012).
Before she arrived, technology was handled by a chief information officer who reported to the chief financial officer and was not part of the executive team. But Charlton, a former electrical engineer who once designed laser guidance systems for smart bombs, believes technology will "actually transform what we can do", according to Tobin.
Communication with vehicles
Charlton regularly promotes Transurban's technological credentials, telling analysts and investors at the April investor day that "sometimes I feel like we're more of telco company than a roads company when I see all the fibre optics going in".
For Tobin, joining Transurban was an opportunity to transform the perception that technology was just a help desk service for staff. "I shared the view with Scott that technology increasingly is the way you go to market and it changes what you can take to market."
First Tobin first had to challenge the company's "workmanlike" engineering mindset and get people thinking strategically. She boosted the technology team from 80 people to about 500, and her annual budget increased from just $22 million five years ago to $250 million (excluding specific investments in big projects).
Transurban uses CCTV cameras, which are monitored by operators in traffic control rooms, as well as automated detection systems to watch for incidents on its roads – such as breakdowns, crashes, Deliveroo cyclists accidentally ending up in tunnels, or a stray kitten or dog – and sends vehicles to help. But it is also investigating how it can use data analytics to avoid wasting time on false alerts from the automated systems, which can be triggered by shadows or heavy rain.
It is also thinking about how to prepare its systems for real-time communication with vehicles. Its toll-road monitoring and communications systems are part of closed fibre networks, but it has been upgrading systems to add cybersecurity technology so that in future they can communicate via the internet with CAVs. "The perfect solution needs to be an interplay between the car and the infrastructure," Tobin says.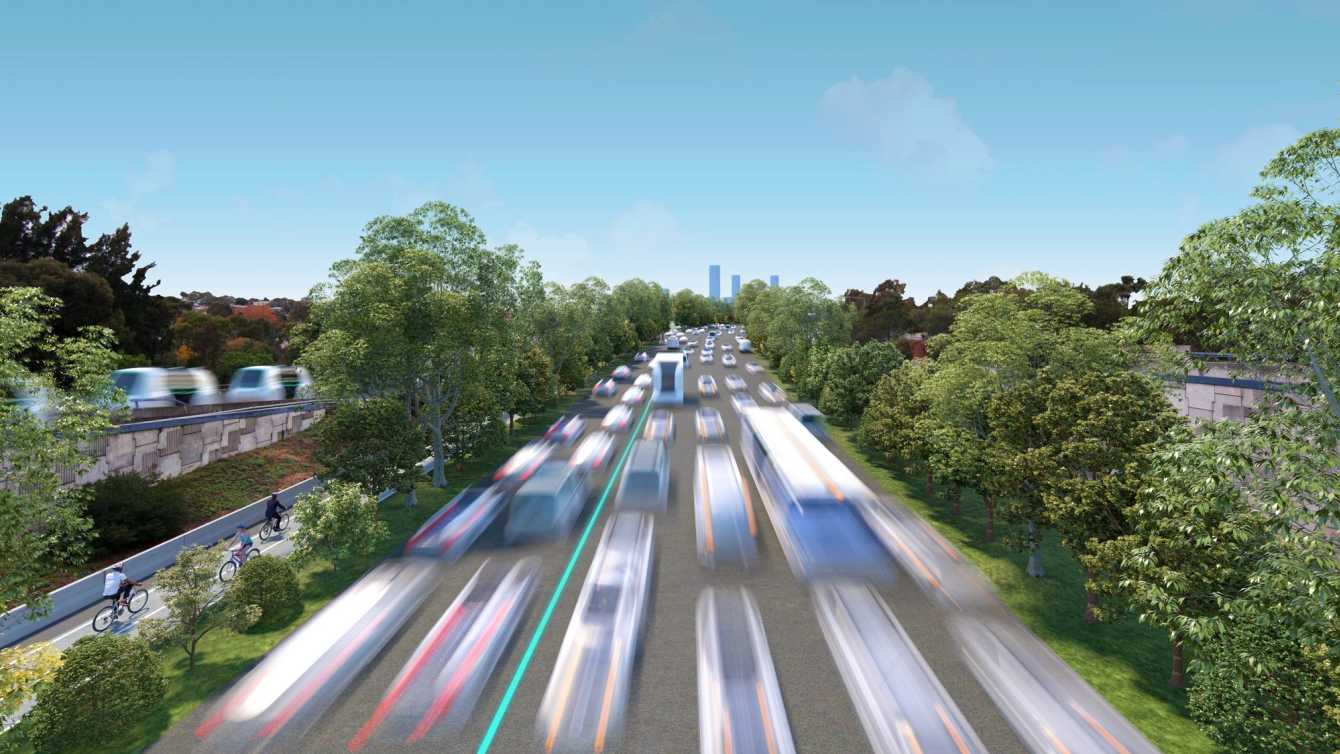 Transurban wants to use V2X comunication, or "vehicle-to-everything", which has already been put in cars by some vehicle manufacturers – including Toyota and General Motors – to warn CAVs of changes to road conditions or speeds, as well as congestion.
CAVs should also be able to use V2X to tell Transurban if they have an accident, allowing the company to react quickly to incidents.
Tobin likens CAVs to insect swarms because the cars can swap information on how fast they are moving and when they are speeding up or slowing down, which means they can travel much closer together than cars with human drivers.
Transurban wants to support the development of CAVs because it believes they will make roads safer and traffic flow faster, and has run its own trials of how the cars perform on its roads in Sydney, Melbourne and Brisbane as well as in the US.
The trials found that CAVs had difficulty with road signs that had been damaged or defaced. Inconsistent line markings also caused problems. In one CAV trial in Victoria, the cars did not understand that when they left the motorway and went on to an exit ramp, they needed to slow down.
"We all know that, we've been conditioned to that, but not all of our exit ramps actually have a sign that says: 'If you've been travelling on the main road at 80km/h, you'd better slow down to 40km/h'," says Tobin. "So we've had some situations where the car has continued at 80km/h as it's going off an exit ramp."
Tobin does not think CAVs will reach critical mass until the 2040s. But Transurban is watching their development closely, including how they are using wireless technology known as "co-operative intelligent transport systems" to share information with one another as well as with the road infrastructure.
"The car manufacturers, in my view, will realise that the sharing of data is the right way forward," Tobin says. "But not just sharing with the car fleets, sharing with the operators of road networks because it's that complete set of information that will be needed to keep people safe."
Carmakers BMW and Mercedes-Benz have already started working together, forming a partnership in February to jointly develop assistance systems for drivers and technology for automated driving on highways.
Although Transurban uses physical message boards to inform drivers of accidents or congestion and "lane usage management systems" (which have illuminated red crosses to show drivers which lanes to avoid), it has to be careful not to distract them with too much information.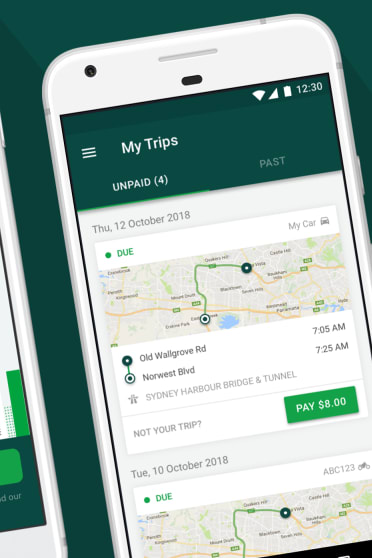 If CAVs do not end up sharing data with Transurban, Tobin says the company will need to put up more signs telling the automated cars where to go and the speeds at which they should travel so they do not become confused.
Transurban also wants to make better use of technology in its tolling business, including moving away from using tags in cars to deduct payments. Tobin says tags are "a friction point" for drivers because sometimes they forget to put them into cars if they change vehicles or take them out if they are selling them.
To make toll fare deductions "seamless and automatic", Transurban has developed an app called LinktGO that activates location services on motorists' mobile phones as their cars approach a toll road, but deactivates it as the cars leave, saving the phones' batteries.
Transurban took a 20 per cent stake in Bluedot Innovation, an Australian start-up now based in San Francisco, to get access to the technology used in the app, which is targeted at drivers who only occasionally use toll roads or who can't be bothered to set up a tag account.
"We appreciate that we are a service that is not sometimes the first one that people would like to spend discretionary income on so we want to make sure that our services are known for being safe, for being efficient and really easy to use," Tobin says.
Transurban is also evolving its US tolling systems in-house, upgrading its GLIDe system using cloud technology. It is assessing how it can use open data so that in future it can share information with government and other transport agencies. It is also trialling using video analytics technology in Australia to track cars and collect tolls.
It wants to work closely with other companies in the transport industry, including makers of road signs, tolling equipment and camera equipment. It is considering using sonar sensors to monitor water levels in storm water drains to check if they are blocked, and investigating whether it can use other kinds of sensors on roads and bridges to monitor incidents and maintenance needs.
Tobin stresses, however, she is increasingly interested in the software that companies make rather than physical devices such as the tolling infrastructure. "It's going to be the software and the data management that allows us to manage the traffic environment into the future – the physical device will be much more commoditised or, in some cases, not needed any more," she says.
All the company's "future thinking" will go into the West Gate Tunnel, which will have 250 CCTV cameras, 114 automatic incident detection cameras, 114 tunnel information messaging signs and 117 lane-use management signs. These will be connected by data cables that will run above the cars. Transurban will use the bottom half of the tunnel to access roads from underneath, removing the need to temporarily close the tunnel for maintenance work.
The West Gate Tunnel and all future tunnels will also have high-definition colour video cameras that can transmit up to 30 frames per second, enabling detailed traffic surveillance.
Tobin's biggest worry, after security – she employs 25 security operators and Transurban is connected to a global service that constantly monitors attempted intrusions into its systems – is finding enough software engineers and data scientists. "Like every large company in Australia, I am doing whatever I can to make sure that the technology market understands what we are doing," she says. "It's just such a cool gig to be in technology in this company in this industry at this time."
[ad_2]

Source link