Washing away: As Caloosahatchee's remaining oxbow islands erode, Lee commissioner seeks help
"We are going to lose those islands altogether – they will be gone,"…
Show Caption
Hide Caption
Lee County Commissioner Frank Mann speaks on the erosion issue on the Caloosahatchee river
Lee County Commissioner Frank Mann speaks on eroding shoreline along the Caloosahatchee river
Andrew West, Fort Myers News-Press
Lee County is getting smaller.
The shrinkage happens every time a big twin-engine diesel boat zooms up the Caloosahatchee, throwing a wake wall that swamps the river's shoreline, slowly wearing it away.
The erosion happens little by little, but it all adds up to an alarming loss, warns Lee County Commissioner Frank Mann.
Not only are the river's banks affected, its oxbow islands are vulnerable as well, with some at risk of disappearing in the next few years, Mann says. Beyond being scenic remnants of old Florida, the little islands provide critical wildlife habitat, sheltering birds who rest and raise their young there. Manatees, turtles and fish hang out in the calm water behind them.
More: Miami Commissioner tours Caloosahatchee, hoping to work together to improve water issues
More: Personhood for the Caloosahatchee? Some think legal standing could be the river's best hope; event aims to explain
Now, Mann is working to get the oxbow islands attention and help. He brought the issue up at the March 16 commission meeting, and he's started communicating with the South Florida Water Management District as well.
"Absent some stabilization, we are going to lose those islands altogether – they will be gone," he said. "That would be negligence on the part of us decision-makers to be aware of (the erosion) and what it's doing and turn our backs on it."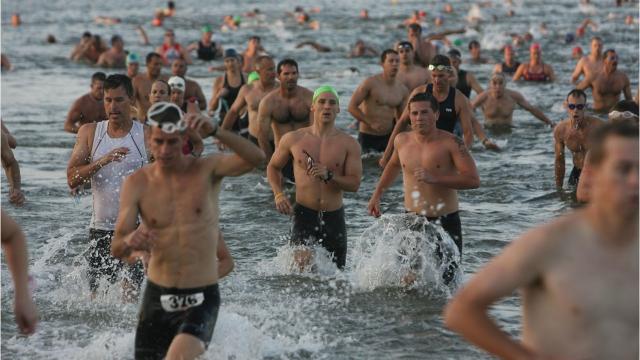 An introduction to the Caloosahatchee River
The Caloosahatchee River is the largest river in Southwest Florida and stretches from Lake Okeechobee to the Gulf of Mexico.
Chad Gillis/News-Press
Because there are few restricted speed zones in the river, wakes can get huge, as the county learned decades ago when it was landscaping Caloosahatchee Regional Park's shoreline.
"The county had planted cypress trees up and down there and all of a sudden, they were in the river," Mann said, pointing to a cypress that's become its own little tree island, surrounded on all sides by water.
"That tree is three feet in the river. It used to be five feet inland," he said. Further up, he points to a dead sabal palm stump poking up from the water, its crown long since dead.
"This stump? Look at that – it's 20 feet from shore," he says.
What's an oxbow?
Once upon a time, the river had between 300 to 400 bends as it snaked from its headwaters just east of Hendry County to the Gulf of Mexico. When humans began straightening it in the late 1800s, the oxbow islands were formed, said water scientist and river advocate Rae Ann Wessel, who retired from the Sanibel-Captiva Conservation Foundation as its natural resources policy director last year.
"The channelization effectively bisected the old meanders, so you ended up with half a bend north of the channel and half a bend south of the channel, or maybe you'd eliminate the bends altogether," Wessel said.
The remaining little pieces of land – often crescent-shaped – are called oxbow islands, thanks to their resemblance to the old-fashioned yoke collars used to hitch beasts of burden to ploughs. Only about 36 of these original islands remain upstream of the W.P. Franklin Lock, with about seven downstream, Wessel said, and they're critically important for a variety of reasons.
"First they're the original Caloosahatchee meanders, so the river there tends to have shallower depths, more native habitat and a quieter area that our native wildlife depends on – the fish, birds and macroinvertebrates" – the snails, butterflies and insects the fish and birds eat.
"These natural native habitats let them get away from the predators, high flows and washouts so they can reproduce, feed and rest – functions that just aren't available on the really steep shorelines and deep canals," Wessel said. "So they're prime spots for wildlife."
For an example of a stabilization success story, she and Mann point to the Caloosahatchee Regional Park's mile-long shoreline, an ongoing $884,000 project that's about to begin its final phase, said county spokesman Tim Engstrom.
Starting in 2015, Lee County began bolstering the eroding park riverfront with riprap – large rocks that break the waves – after erosion caused by the frequency and speed of boats traveling the Caloosahatchee, says county spokeswoman Betsy Clayton.
"And nature is adapting well to the riprap," Mann said, pointing to giant leather ferns, willows and maples all thriving along the new bank. "It looks beautiful."
But the work didn't include the park's lone oxbow island. Now Mann is concerned it may be doomed. And if the island goes, the shoreline becomes more vulnerable as well.
As mangroves do along the coast, the oxbow islands act as a buffer for the riverfront. Gesturing to an unprotected stretch next to shoreline behind an oxbow, Mann's wife, Mary Lee said, "To me this is the perfect example. You see the cabbages lean here," she said, pointing to the exposed trees. "And then they stop, because the island protects them, and they don't get the wave action there."
Steering his pontoon boat into a curve in the channel, her husband says they're traveling over what was once land. "Where we're riding right now used to be island," he said. "And if this one doesn't get help, in three years, it'll be gone. The only thing that'll be there will be that one cypress. They're part of the way Mother Nature built this before we, ah, improved it," he said. "Those 6-foot wakes just eat it alive.
He wants the South Florida Water Management District, which controls the river's oxbow islands, to give them the same treatment – "to consider doing exactly what Lee County has done in a much smaller scale. It can't cost that much," he told his commissioner colleagues at the March 16 meeting. "What I'm asking you guys to support me on is writing to the Water Management District asking them to consider doing what we have done with the islands they own and control.
"This is such a success story I want to duplicate it."
More like this: How to spend one last day of life in Lee County? On the Caloosahatchee, naturally
The next move is the district's, once they receive the county's request.
"In general, the district performs projects that directly support its mission, which includes ecosystem restoration, flood protection and water supply," wrote Sean Cooley, the district's communications and public engagement director in an email. "We create a five year Capital Improvements Plan that outlines all of our projects based on available budget and anticipated state funding. We haven't received any information from the commissioner yet and will review any information or project ideas we receive."
Wessel imagines that ultimately, it'll have to be a cooperative effort with partners like the West Coast Inland Navigation District, a multi-county body that sometimes helps with such projects.
However it comes together, it's critically important work, Wessel says, "because these native habitats for our native species provide services, provide water quality and provide habitat values that we can't afford to engineer if they're lost."